Immigration consultancy firm shut down for illegal recruitment
THE Department of Migrant Workers (DMW) closed down on Tuesday a Makati-based immigration consultancy firm for allegedly conducting illegal recruitment activities.Migrant Workers Secretary Susan Ople says that as head of the department overseeing the interest and welfare of the country's modern day heroes, she's very optimistic that demand for all types of workers is on the rise, particularly in traditional destination countries. TMT PHOTO© Provided by The Manila Times
Migrant Workers Secretary Susan Ople identified the consultancy firm as K-Monster Inc. with its office at Barangay San Lorenzo.
Ople personally led the team composed of the department's Anti-Illegal Recruitment Branch (AIRB), the Makati police and barangay officials.Thailand massacre triggers king's appearance as opposition pouncesAdNIKKEI Asia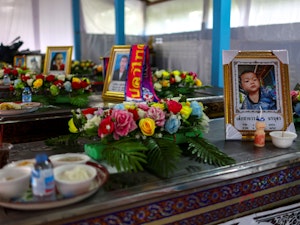 Surveillance operations conducted by the AIRB showed that K-Monster has reportedly been offering jobs for hotel workers, room attendants, cashiers, waiters, caregivers, and factory workers in Poland, Canada, and the Netherlands.
The AIRB said K-Monster does not have a license to recruit workers.
The firm has been offering consultancy services for education, immigration, and employment. Its head office in South Korea is billed as an international talent solutions provider or staffing agency with an existing tie-up with a local recruitment agency with approved job orders in Canada, Poland the US, and Papua New Guinea.
Ople said based on DMW's investigation, K-Monster has been allegedly collecting "advance processing" fees from their victims ranging from P80,000 to P220,000.
The firm claimed the fees cover the cost of documents such as curriculum vitae (CV), resume and passport, processing of visas and work permits, and other travel requirements. It also covers the cost of endorsing the applicants to potential foreign employers.
Ople said the DMW is determined to protect Filipinos from the activities of illegal recruiters. She also asked those planning to work abroad remain vigilant and always check with the DMW before engaging the services of any company or establishment that promises jobs abroad," Ople added.
Illegal recruitment charges will be filed against K-Monster. The department will also assist victims of the agency in preparing their individual cases against the firm, she added.
Ople added that K-Monster and its staff will be included in the department's "List of Persons and Establishments with Derogatory Record." Those included in said list are barred from participating in the government's overseas recruitment program, aside from the facing illegal recruitment charges.