LIST: Who is running for senator in the 2022 Philippine elections?
FacebookTwitterCopy URLThey will be vying for 12 seats in the Senate. A total of 64 candidates are on the official ballot.https://2ab506805c4815955a0f7f13b6e2a566.safeframe.googlesyndication.com/safeframe/1-0-38/html/container.html
From October 1 to 8, 2021, senatorial aspirants trooped to the Sofitel Philippine Plaza Manila to file with the Commission on Elections (Comelec) their certificates of candidacy (COC) for the 2022 polls.
They will be vying for 12 seats in the Senate.
(READ: Powers and Duties: Senator in the Philippines)
Below is the official list of candidates for senator, arranged alphabetically. The senatorial slate(s) that an aspirant is a part of is also indicated.
(READ: #PHVote Guides: When does a politician become a candidate?)
At the end, you may see the declared and known Senate slates of the presidential bets.
(READ: Senatorial slates for the 2022 Philippine elections – A Rappler cheat sheet)
A total of 64 senatorial candidates are on the official ballot: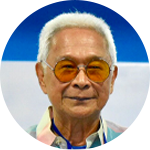 1. Afuang, Abner (Ind.)
Independent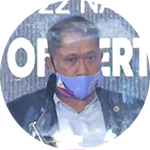 2. Albani, Ibrahim (WPP)
Workers and Peasants Party (Labor Party Philippines)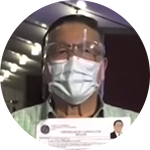 3. Arranza, Mang Jess (Ind.)
Independent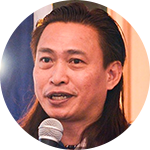 4. Baguilat, Teddy (LP)
Liberal Party
In senatorial slate of: Robredo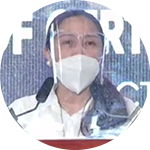 5. Bailen, Agnes (Ind.)
Independent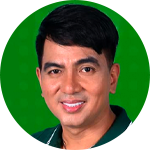 6. Balita, Carl (Aksyon)
Aksyon Demokratiko
In senatorial slate of: Moreno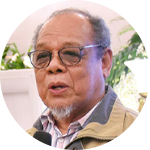 7. Barbo, Lutz (PDPLBN)
PDP-Laban
In senatorial slate of: Pacquiao
8. Bautista, Herbert Bistek (NPC)
Nationalist People's Coalition
In senatorial slate of: Lacson, Marcos-Duterte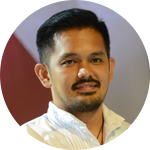 9. Belgica, Greco (PDDS)
Pederalismo ng Dugong Dakilang Samahan
In senatorial slate of: PDP-Laban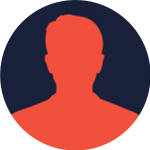 10. Bello, Silvestre Jr. (PDPLBN)
PDP-Laban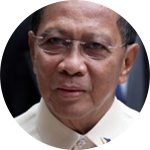 11. Binay, Jojo (UNA)
United Nationalist Alliance
In senatorial slate of: Lacson, Pacquiao, Robredo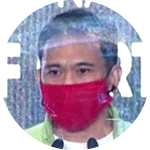 12. Cabonegro, Roy (PLM)
Partido Lakas ng Masa
In senatorial slate of: De Guzman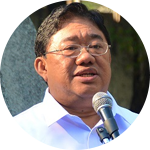 13. Castriciones, Bro. John (PDPLBN)
PDP-Laban
In senatorial slate of: PDP-Laban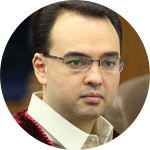 14. Cayetano, Alan Peter (Ind.)
Independent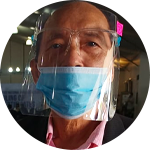 15. Chavez, Melchor (WPP)
Workers and Peasants Party (Labor Party Philippines)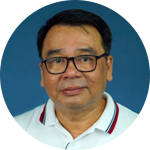 16. Colmenares, Neri (MKBYN)
Makabayang Koalisyon ng Mamamayan
In senatorial slate of: De Guzman, Pacquiao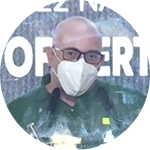 17. D'Angelo, David (PLM)
Partido Lakas ng Masa
In senatorial slate of: De Guzman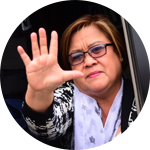 18. De Lima, Leila (LP)
Liberal Party
In senatorial slate of: De Guzman, Robredo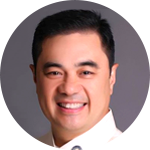 19. Del Rosario, Monsour (PDR)
Partido para sa Demokratikong Reporma
In senatorial slate of: Lacson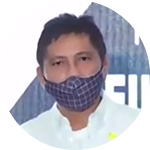 20. Diaz, Ding (PPP)
Partido Pilipino sa Pagbabago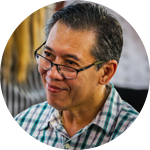 21. Diokno, Chel (KANP)
Katipunan ng Nagkakaisang Pilipino
In senatorial slate of: De Guzman, Robredo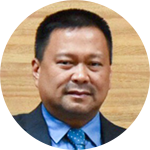 22. Ejercito, JV Estrada (NPC)
Nationalist People's Coalition
In senatorial slate of: Lacson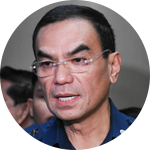 23. Eleazar, Gen. Guillermo (PDR)
Partido para sa Demokratikong Reporma
In senatorial slate of: Lacson
Substituted for Paolo Redemptus Capino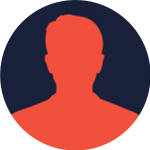 24. Ereño, Bro. Ernie (PM)
Partido Maharlika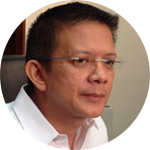 25. Escudero, Chiz (NPC)
Nationalist People's Coalition
In senatorial slate of: Lacson, Pacquiao, Robredo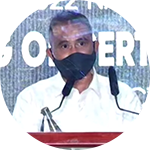 26. Espiritu, Luke (PLM)
Partido Lakas ng Masa
In senatorial slate of: De Guzman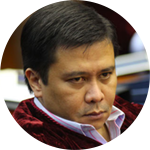 27. Estrada, Jinggoy (PMP)
Pwersa ng Masang Pilipino
In senatorial slate of: Marcos-Duterte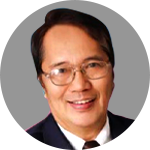 28. Falcone, Bal Falcon (DPP)
Democratic Party of the Philippines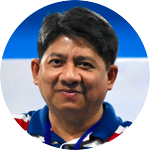 29. Gadon, Larry (KBL)
Kilusang Bagong Lipunan
In senatorial slate of: Marcos-Duterte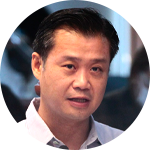 30. Gatchalian, Win (NPC)
Nationalist People's Coalition
In senatorial slate of: Lacson, Marcos-Duterte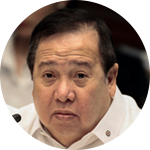 31. Gordon, Wow Dick (BVNP)
Bagumbayan Volunteers for a New Philippines
In senatorial slate of: Lacson, Pacquiao, Robredo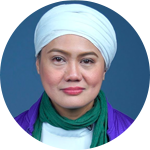 32. Gutoc, Samira (Aksyon)
Aksyon Demokratiko
In senatorial slate of: Moreno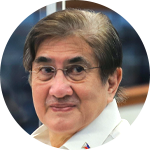 33. Honasan, Gringo (Ind.)
Independent
In senatorial slate of: Lacson, PDP-Laban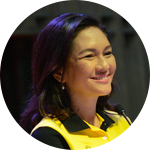 34. Hontiveros, Risa (Akbayan)
Akbayan
In senatorial slate of: De Guzman, Robredo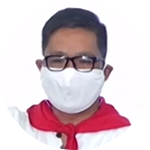 35. Javellana, RJ (Ind.)
Independent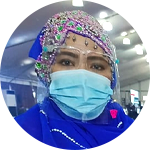 36. Kiram, Nur-Mahal (Ind.)
Independent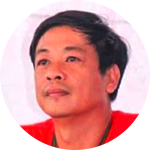 37. Labog, Elmer (MKBYN)
Makabayang Koalisyon ng Mamamayan
In senatorial slate of: De Guzman, Pacquiao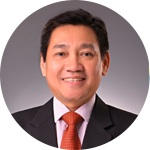 38. Lacson, Kuya Alex (KP)
Kapatiran Party
In senatorial slate of: Robredo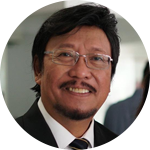 39. Langit, Rey (PDPLBN)
PDP-Laban
In senatorial slate of: PDP-Laban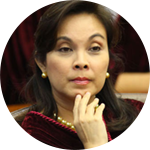 40. Legarda, Loren (NPC)
Nationalist People's Coalition
In senatorial slate of: Lacson, Marcos-Duterte, Pacquiao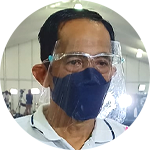 41. Lim, Ariel (Ind.)
Independent
42. Mallillin, Emily (PPM)
Partido Pederal ng Maharlika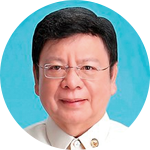 43. Marcoleta, Rodante (PDPLBN)
PDP-Laban
In senatorial slate of: Marcos-Duterte, PDP-Laban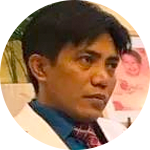 44. Marcos, Francis Leo (Ind.)
Independent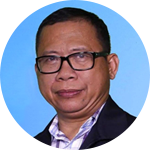 45. Matula, Sonny (Ind.)
Independent
In senatorial slate of: De Guzman, Robredo
46. Mindalano-Adam, Marieta (KTPNAN)
Katipunan ng Kamalayang Kayumanggi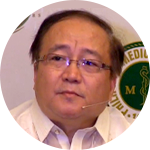 47. Olarte, Atty/Dr. Leo (Bigkis)
Bigkis Pinoy Movement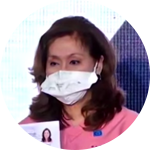 48. Padilla, Dra. Minguita (PDR)
Partido para sa Demokratikong Reporma
In senatorial slate of: Lacson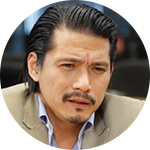 49. Padilla, Robin (PDPLBN)
PDP-Laban
In senatorial slate of: PDP-Laban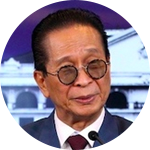 50. Panelo, Sal Panalo (PDPLBN)
PDP-Laban
In senatorial slate of: PDP-Laban
51. Pimentel, Astra (PDPLBN)
PDP-Laban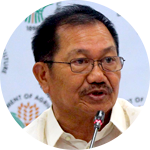 52. Piñol, Manny (NPC)
Nationalist People's Coalition
In senatorial slate of: Lacson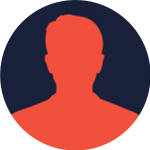 53. Ricablanca, Willie Jr. (PM)
Partido Maharlika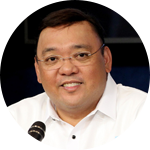 54. Roque, Harry Spox (PRP)
People's Reform Party
In senatorial slate of: Marcos-Duterte
Substituted for Paolo Mario Martelino
55. Sahidulla, Lady Anne (PDDS)
Pederalismo ng Dugong Dakilang Samahan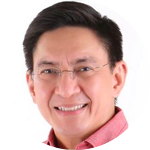 56. Sison, Jopet (Aksyon)
Aksyon Demokratiko
In senatorial slate of: Moreno
Substituted for Noli de Castro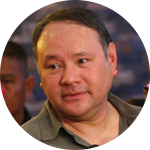 57. Teodoro, Gibo (PRP)
People's Reform Party
In senatorial slate of: Marcos-Duterte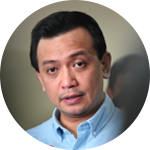 58. Trillanes, Antonio IV (LP)
Liberal Party
In senatorial slate of: Robredo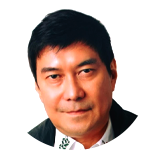 59. Tulfo, Idol Raffy (Ind.)
Independent
In senatorial slate of: Lacson, Pacquiao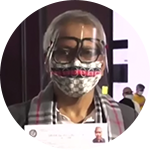 60. Valeros, Rey (Ind.)
Independent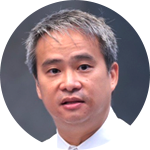 61. Villanueva, Joel Tesdaman (Ind.)
Independent
In senatorial slate of: Lacson, Pacquiao, Robredo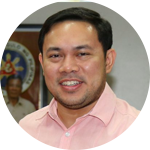 62. Villar, Mark (NP)
Nacionalista Party
In senatorial slate of: Marcos-Duterte, PDP-Laban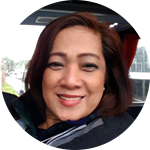 63. Zubiaga, Carmen (Ind.)
Independent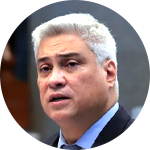 64. Zubiri, Migz (Ind.)
Independent
In senatorial slate of: Lacson, Marcos-Duterte, Pacquiao, Robred