PBBM, Guterres meet to discuss PH-UN cooperation, climate action
MANILA – President Ferdinand "Bongbong" Marcos Jr. met with United Nations (UN) Secretary-General António Guterres on Wednesday (Manila time) to reaffirm cooperation between the Philippines and UN and other global issues.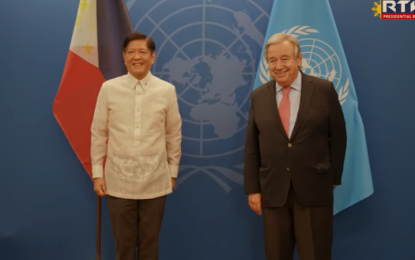 "The Secretary-General and President Marcos discussed areas of United Nations cooperation and support," according to a readout posted on the UN website.
The two leaders were said to have exchanged views on the international situation and climate action initiatives but gave no further details.
Their meeting took place after Marcos delivered his speech during the 77th session of the United Nations General Assembly (UNGA) in New York.
During his debut speech, Marcos described climate change as "the greatest threat affecting our nations and our peoples."
"There is no other problem so global in nature that it requires a united effort, one led by the United Nations," he said.
He also called on industrialized countries to fulfill their obligations under the United Nations Framework Convention on Climate Change and the Paris Agreement to cut their greenhouse gas emissions, provide climate financing and technology transfer for adaptation for the most vulnerable and developing countries to lead by example.
"When future generations look back, let them not ask why we did not take this opportunity to turn the tide, why did we continue in our profligate ways, until it was too late? This threat knows no borders, no social class, nor any geopolitical consideration. How we address it will be the true test of our time," he said.
Marcos also asked UN member-states to support the Philippines' candidature to the international body's Security Council for the term 2027-2028.
He expressed confidence that the Philippines would become a "moderately prosperous" country by 2040 following steady investments made in food security, public health, education, and other social services
He also emphasized the importance of adherence to rules-based international order to settle disputes and renewed his resolve to pursue an independent foreign policy that makes the Philippines a "friend to all and an enemy of none."
Marcos also sought an end to the "disturbing" incidents of racism, especially among Asians.