Duterte PDP-Laban wing endorses Bongbong Marcos for president
Job Manahan, ABS-CBN News
Posted at Mar 22 2022 10:58 AM | Updated as of Mar 22 2022 02:22 PM
Share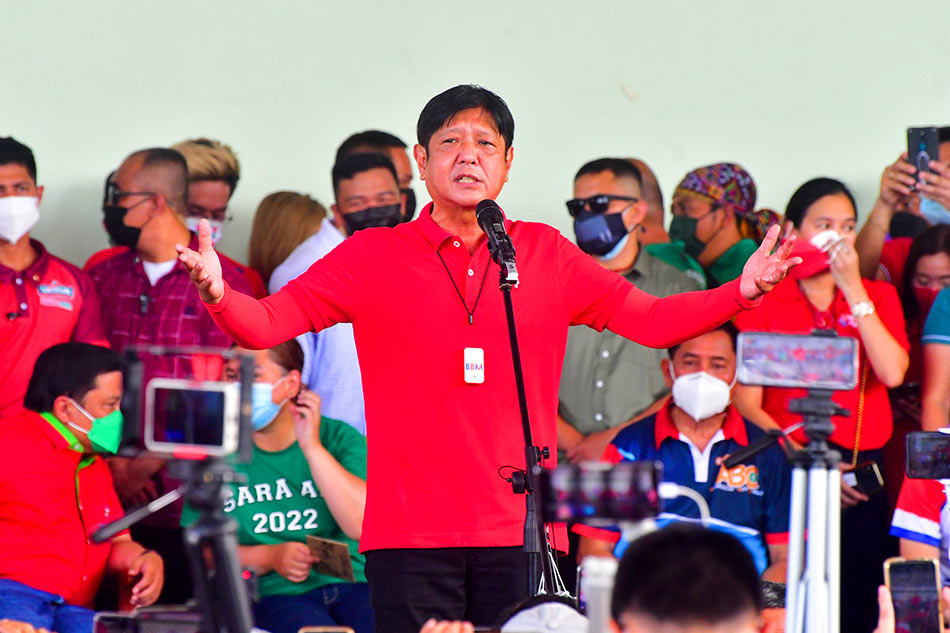 MANILA (UPDATED)- The faction of a political party formed in 1982 to oppose the dictatorship of Ferdinand Marcos has endorsed the presidential bid of the late strongman's son Bongbong, saying his platforms were the "most aligned" with the programs of outgoing chief executive Rodrigo Duterte.
The PDP-Laban faction backed by Duterte on Tuesday formally endorsed Marcos Jr., who was previously tagged by Duterte as a "weak leader."
But party president Energy Secretary Alfonso Cusi said the faction's endorsement does not translate to Duterte's support, deferring the question to the chief executive's office. Malacañang has yet to comment on the development.
"Ito po ay hindi desisyon ng isang tao, ito po ay desisyon ng partido," Cusi added.
(This is not the decision of one person. This is a party decision.)
A PDP-Laban National Executive Committee resolution signed by Cusi and other party officials said "Senator Bongbong Marcos is the candidate whose platform is most aligned with the development program of President Rodrigo Roa Duterte…"
PDP-LABAN's roots
Senator Koko Pimentel, who leads the other PDP-Laban faction with Sen. Manny Pacquiao, said the endorsement was proof of the Cusi group being "total strangers" to the ideals of the party.
"With this latest action from Sec. Cusi and his cohorts, they have manifested that they are total strangers to PDP- LABAN. They don't even acknowledge that PDP-LABAN was established to oppose the Marcos dictatorship. Time for Comelec to dismiss the petition of these usurpers," said Pimentel, whose father Aquilino "Nene" Pimentel founded the party with a group of protesters.
"In Germany for example, a political party formed to oppose Adolf Hitler will definitely not support an Adolf Hitler Jr." Pimentel added.
The party eventually became a merger of Partido Demokratiko Pilipino and Lakas ng Bayan.
The Marcos camp has since thanked the PDP-Laban faction for the endorsement.
"It is truly assuring but at the same time challenging us to be even more prepared," said spokesperson Vic Rodriguez.
The Cusi wing earlier adopted Marcos' running-mate Davao City Sara Duterte-Carpio, the President's daughter, as its vice presidential bet in the May elections. It said the mayor's leadership "make her most qualified for the position she is now aspiring for and therefore deserves the party's support."
Marcos and Duterte-Carpio, dubbed the "UniTeam," have been leading pre-election polls.
RELATED VIDEOhttps://imasdk.googleapis.com/js/core/bridge3.506.0_en.html#goog_158647930
Bangkong dawit sa Marcos ill-gotten wealth, sinisingil ng Sandiganbayan
10100:00/0:00