Bulusan erupts anew; ashfall reaches Albay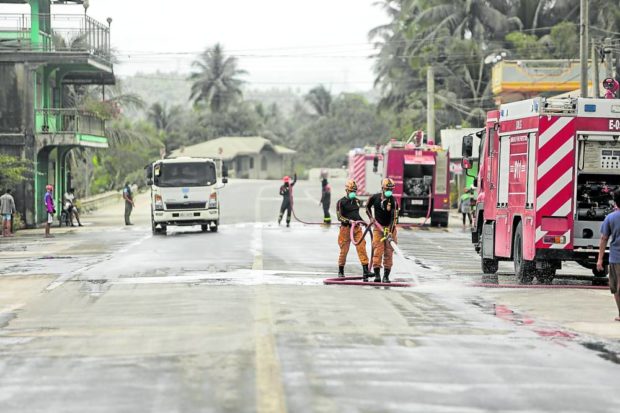 LEGAZPI CITY—Mount Bulusan erupted anew early on Sunday, its phreatic or steam-driven eruption stronger than the previous one a week earlier, sending residents back to evacuation centers as the volcano's ashfall reached as far as this provincial capital of Albay about a hundred kilometers away.
According to Science and Technology Undersecretary Renato Solidum Jr., who is also officer in charge of the Philippine Institute of Volcanology and Seismology (Phivolcs), more villages were affected in the phreatic eruption that was recorded at 3:37 a.m. and lasted for 18 minutes.
"If you compare the counts (intensity) of signal, the record for this morning's eruption is higher," he said in a chat message when reached for comment.
Phivolcs described the eruption as an "explosion-type earthquake" that was felt at intensity 3 by residents of Barangay Añog in Juban town and at intensity 2 in Barangay Inglagadian in Casiguran — all within the volcano's 5-km radius.
'Abnormal condition'
"A brief incandescence at the base of the eruption plume was reported in Barangay Inlagadian… By daybreak, multiple active vents at the summit could be observed spewing ash and steam to a height of at least 500 meters before being drifted to the northwest," the agency said.
Phivolcs has designated a closer radius of 4 km as a permanent danger zone.
In the last 24 hours before Mount Bulusan exploded anew, 136 volcanic earthquakes were recorded, with ash plumes rising over 150 meters and spreading toward the provincial capital of Sorsogon City, about 50 km north of the volcano, and even to Legazpi City, which is 100.9 km further northwest.
Phivolcs said in its 4:20 a.m. bulletin that the volcano's "alert level 1 status prevails,…which means that it is currently in an abnormal condition."
The alert status was raised to that level on June 5, after Mt. Bulusan spewed steam-rich gray plumes that rose about a thousand meters.
Salvador Mendoza, spokesperson for the provincial government of Sorsogon, said ashfall reached the towns of Magallanes, Castilla and Pilar, besides Juban and Casiguran.
Apart from Añog, heavy ashfall was observed as well in the villages of Bacolod and Rangas, also in Juban, he said.