Duterte stops 'e-sabong,' cites survey by DILG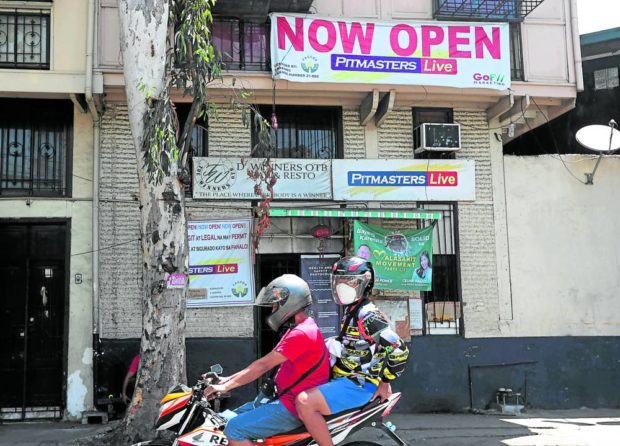 MANILA, Philippines — Interior Secretary Eduardo Año has ordered the Philippine National Police and local government units (LGUs) to stop all online cockfighting games, popularly known as "e-sabong," nationwide starting Tuesday night.
"The [Department of the Interior and Local Government] welcomes the President's decision to stop e-sabong. Government policies must take heed of the pulse of the people. This decision is rooted in a survey reflecting the sentiment of the people. Hindi ito bara-bara na desisyon (This is not a haphazard decision)," Año said in a statement issued on Tuesday.
The DILG chief, however, clarified that the traditional physical cockfighting games would continue to operate with compliance to minimum public health standards as regulated by LGUs.
President RodrigoDuterte ordered a stop to e-sabong, which has been contributing about P640 million a month to government coffers through fees collected by the state-run regulator Philippine Amusement and Gaming Corp. (Pagcor), following the disappearance of more than 30 cockfighters and mounting complaints about its unpleasant repercussions on families and society.
In his weekly public address aired on state television on Monday night, the President said his order was based on the findings of a survey that he ordered Año to conduct regarding the social impact of e-sabong on Filipinos.
"It might not be a sophisticated survey, but still it is a survey. And the recommendation of Secretary Año is to do away with e-sabong and he cited the validation report coming from all sources. So it's his recommendation and I agree with it and it is good. So e-sabong will end by tonight or tomorrow," the president said.
He said he heard "loud and very clear" the various complaints that e-sabong was taking a toll on "values" and causing a negative "impact" on Filipino families.
Based on the survey conducted by the DILG, 62 percent of the more than 8,000 respondents wanted to put a stop to e-sabong, 34 percent favored it to continue but under tighter regulation, and only 4 percent completely supported it.
Bad consequences
Among the reasons cited by the respondents for opposing e-sabong were "addiction to gambling, bankruptcy of players, indebtedness, cost to family, neglect of work and studies, and crime."
The DILG, through its regional and field offices, conducted a survey with respondents in every city and municipality across the country.
A total of 8,463 respondents answered the online sentiment survey of the DILG from April 19 to 20 "to gauge public perception on e-sabong and to provide the President with a basis for his decision on the fate of e-sabong.
The respondents were persons engaged in e-sabong as agents, employees, bettors, players and nonparticipants but were related or acquainted with the stakeholders mentioned.
"It is regrettable that it has been a year since the disappearance of at least 34 e-sabong personalities. Now is the right time to stop the operations of e-sabong. It has become a target of illegal schemes like kidnapping and corruption," DILG Undersecretary and spokesperson Jonathan Malaya said.
Malaya noted that while the Pagcor guidelines allowed only individuals 21 years old and above to play e-sabong, "the reality is people, regardless of age, have become addicted to the game."
Reports from communities submitted to the DILG revealed that persons age 20 and below were able to place bets due to the laxity in the registration process of e-sabong platforms.
Malaya said they received reports of minors who would be willing to commit crimes just so they could place bets on e-sabong games, and a mother who reportedly sold her baby as a wager.
Welcome move
"E-sabong has so many repercussions in our community, including the mental health issues and degradation of family relationships. The situation has been this serious because of e-sabong. It is time to end this," he added.
Several senators on Tuesday said Malacañang's order to stop online cockfighting games shut the door on the franchise application of e-sabong operators.
"Lack of material time (for Congress) to act on the franchise bill, plus the President's stoppage order would mean the demise of the e-sabong industry," said Sen. Ronald dela Rosa, chair of the Senate committee on public order and dangerous drugs.
"Even if Congress will be able to pass the bill, definitely that will be vetoed by the President, because he has already made a stand," said Sen. Panfilo Lacson.
Sen. Grace Poe agreed with Malacañang's move to shut down its operations while the government is trying to weigh the gambling activity's ill effects on the citizens.