How Much Power Does the 2021 Ducati Multistrada V4 S Make?
We test the V-4-powered Multistrada on the Cycle World dyno.
The 2021 Ducati Multistrada V4 S is a tech-laden option in a market of serious sport-touring machines. Building upon the heritage and success of an 18-year run (with 110,000 units sold) of the Multi lineup, it entered 2021 as an all-new, fourth-generation machine with serious changes, as its name suggests.
The most exciting news? Ducati took its superbike technical know-how of the Panigale and created an all-new heart for the Multistrada—the 1,158cc Granturismo V-4 powerplant. As Cycle World contributor Bruno dePrato extensively covered in the details of the new engine, the V-4 is sans a desmodromic valve train and instead utilizes traditional spring-operated valves, making it ready to tackle serious miles in between lengthy 37,280-mile service intervals.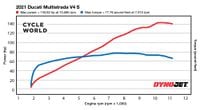 Prior to an upcoming comparison test of the sport-touring segment's heavy hitters, we ran the Ducati Multistrada V4 S on our Dynojet 250i dyno, recording horsepower and torque measurements. The Multi ripped out an impressive 143.82 hp at 10,580 rpm and 77.78 pound-feet of torque at 7,410 rpm in its most aggressive power delivery map. Serious stuff for a sport-tourer.