Level 4 stays in MM as pilot implementation of alert scheme extended until Oct. 15
John Gabriel Agcaoili and Jamaine Punzalan, ABS-CBN News
Posted at Sep 30 2021 11:15 PM | Updated as of Sep 30 2021 11:54 PM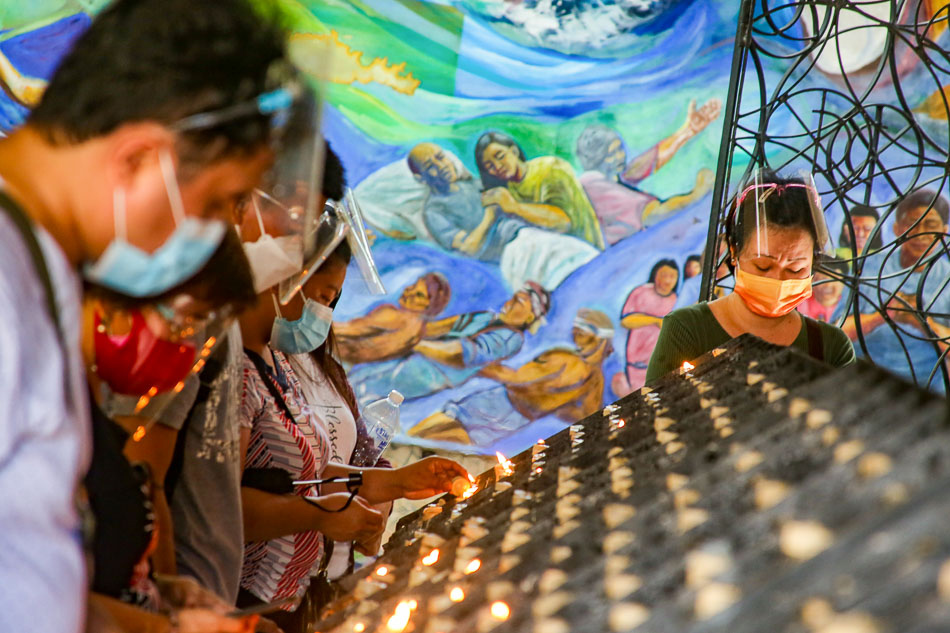 MANILA — Metro Manila will remain under Level 4 until Oct. 15 as the pilot implementation of the new COVID-19 alert level system is extended, officials said Thursday, amid the continuing spread of the coronavirus in the country.
Trade Secretary Ramon Lopez told reporters that the capital region, home to more than 13 million people, will remain under the same alert level that was hoisted since Sept. 16 when the dry run for the new scheme started.
The pilot imposition of the 5-level alert system which goes with granular lockdowns in a bid to arrest the spread of COVID-19 while allowing some businesses to have limited operation, was supposed to end Thursday.
Presidential spokesman Harry Roque said the Inter-Agency Task Force for the Management of Emerging Infectious Diseases decided to extend the pilot implementation of the said scheme in the National Capital Region until Oct. 15.
The 5-tier new virus response strategy being piloted is based on the growth of COVID-19 cases in an area, as well the hospital and intensive care utilization rates.
ADJUSTMENTS IN THE GUIDELINES
But along with the extension until mid-October are the reopening of fitness studios and gyms at 20 percent capacity for fully vaccinated individuals, provided that all gym workers are also fully vaccinated, Roque said in a statement.
"The IATF also approved the recommendation to expand by an additional 10 percent the allowable indoor capacities of dine-in services, in-person religious services, and personal care services in areas under Alert Level 4 of the Pilot Implementation of Alert Levels System, for fully vaccinated individuals," he added.
This means, according to Lopez, that total allowable capacity is 20 percent for these indoor establishments. And those with government safety seal could take in 10 percent more.
Outdoor settings of those mentioned above, however, shall have the allowable capacity of 30 percent, except for those with government safety seal which can add 10 percent more.
OUTSIDE METRO MANILA
Meanwhile, Roque also announced the quarantine classifications of areas outside Metro Manila.
The following areas will be under modified enhanced community quarantine (MECQ) from Oct. 1 to Oct. 15:
Apayao
Kalinga
Batanes
Bataan
Bulacan
Cavite
Lucena City
Rizal
Laguna
Naga City
Iloilo Province
From Oct. 1 to Oct. 31, the following areas will be under general community quarantine (GCQ) with heightened restrictions:
Abra
Baguio City
Ilocos Sur
Pangasinan
Cagayan
Isabela
City of Santiago
Nueva Vizcaya
Quirino
Quezon
Batangas
Bacolod City
Capiz
Iloilo City
Lapu-Lapu City
Negros Oriental
Bohol
Zamboanga del Norte
Zamboanga del Sur
Cagayan de Oro City
Misamis Oriental
Davao del Norte
Davao Occidental
Butuan City
Surigao del Sur
Roque said Davao de Oro will also be under GCQ with heightened restrictions, but only on October 1-15, 2021.
The following areas meanwhile will be under GCQ from Oct. 1 to Oct. 31:
LUZON
Ilocos Norte
Dagupan City
Benguet
Ifugao
Tarlac
Marinduque
Occidental Mindoro
Oriental Mindoro
Puerto Princesa
Albay
Camarines Norte
VISAYAS
Aklan
Antique
Guimaras
Negros Occidental
Cebu City
Cebu province
Mandaue City
Siquijor
Tacloban City
MINDANAO
Zamboanga Sibugay
Zamboanga City
Misamis Occidental
Iligan City
Davao City
Davao Oriental
Davao del Sur
General Santos City
Sultan Kudarat
Sarangani
North Cotabato
South Cotabato
Agusan del Norte
Agusan del Sur
Dinagat Islands
Surigao del Norte
Cotabato City
Lanao del Sur
The rest of the Philippines will be under modified GCQ, said Roque.