Marcos to business groups: Maximize capabilities, enhance economic ties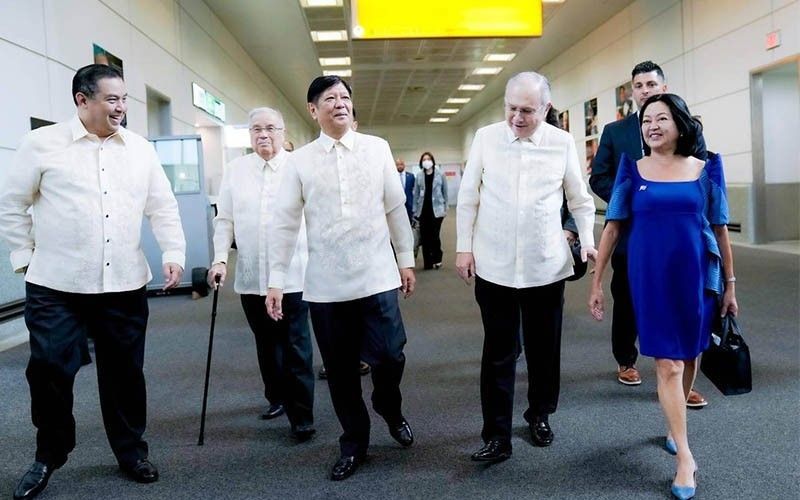 This photo posted by President Ferdinand "Bongbong" Marcos Jr. shows him and part of the delegation to the United States arriving at Newark Liberty International Airport in New Jersey, United States.Bongbong Marcos / Facebook
NEW YORK – President Marcos has urged businesses to find new ways of forging partnerships and boosting capabilities so they can contribute more to economic growth for the benefit of all sectors.
During a dialogue with the US-ASEAN Business Council and the US Chamber of Commerce on Tuesday here, Marcos emphasized the need to maximize available assets and capabilities while finding ways to enhance economic relationships.
"We really have to leverage whatever assets, whatever capabilities we have so that we can maximize our ability to grow and to pull the economy," the President said.
"Let us find new ways to partner, let us find new ways to develop, let us find new ways to strengthen this relationship between the United States, ASEAN and the Philippines and in that way, the synergies we will find in that kind of relationship will be to the benefit of us all," he added.
In a Facebook post, Marcos expressed hope that as ties between partners are strengthened, innovative solutions to boost their economies together emerge. He said the dialogue with the two groups was intended "to chart new paths for furthering mutually beneficial economic and investment agendas with the United States."
"As we reopen our borders amid the pandemic, we remain firm in our belief that stronger ties with US and ASEAN investors will lead us to a more resilient economy," Marcos added.
Press Secretary Trixie Cruz-Angeles said Marcos' meeting with the US-ASEAN Business Council and the US Chamber of Commerce was an opportunity for him to discuss the measures being undertaken by his administration to reform the economy and lure investors.
"The President believes that the two institutions are important partners in growing the businesses in our country and in creating more jobs for Filipinos," she added.
Marcos also discussed the Philippines' priorities tackled in his speech during the 77th session of the United Nations General Assembly (UNGA), as well as the economic and investment agenda of his administration.
The US-ASEAN Business Council is an advocacy organization of US corporations operating within the ASEAN region. The US Chamber of Commerce, meanwhile, is an assembly of small businesses and business chambers across the US. It represents the interests of more than three million businesses.