Over 3.3 million COVID-19 vaccine doses from Pfizer, Sinovac arrive in Philippines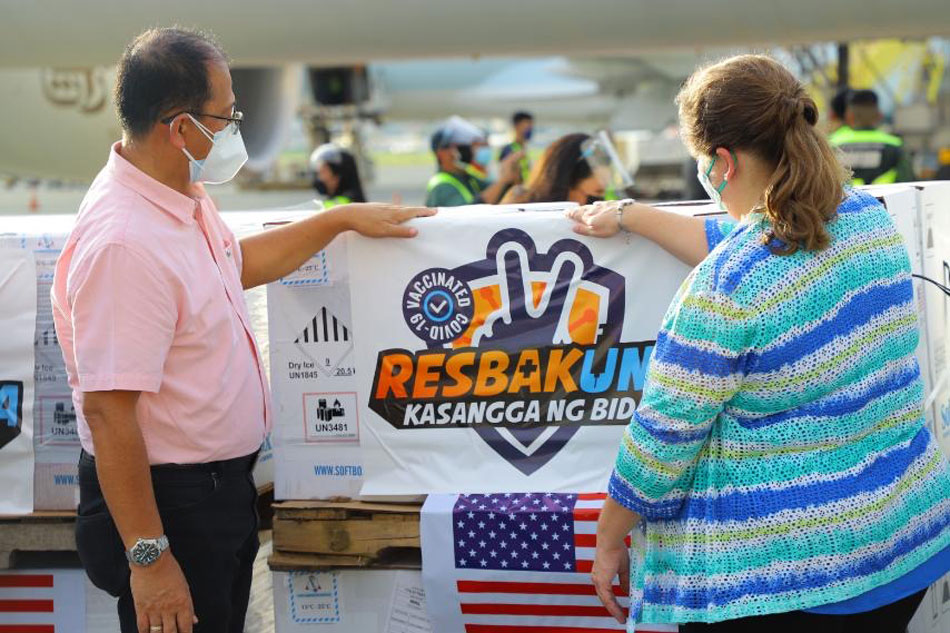 MANILA (UPDATED) — The Philippines on Friday received over 3.3 million COVID-19 vaccine doses from different manufacturers, as the country aimed to expand its vaccination program for teens and the general population this month.
A total of 883,350 COVAX-donated COVID-19 shots manufactured by Pfizer arrived at the Ninoy Aquino International Airport (NAIA) Terminal 3 past 4 p.m. via Emirates flight EK332.
The doses were donated by the United States government through the vaccine sharing platform, authorities said.
"The United States is really happy to be able to provide support not just to Metro Manila, but to the greater Philippines, Cebu and Davao," US Embassy Charge d' Affaires Heather Variava said.
"Over the course of the next couple of days, you will see 5.5 million more doses arrive in the Philippines," she added.
Vaccine czar Sec. Carlito Galvez Jr. thanked the US government and COVAX for the donated vaccines.
He said Calabarzon, Central Luzon, Central Visayas, and the Davao Region will receive bulk of the newly delivered jabs.
"We would like to thank again our partners, our allied nations for the donations you have given to us. We would like also to thank the American people for your generosity, and thank you for helping us in this time of need," Galvez said.
SINOVAC ARRIVALS
Shortly before 6 p.m., Philippine authorities also welcomed a total of 2.5 million doses of Sinovac vaccines at the NAIA Terminal 2 flown via Philippine Airlines flight PR359.
The deliveries raised the country's total received virus jabs to 74.7 million as of Friday night, majority or 41.5 million of which were from China's Sinovac.
Galvez said that the country is expecting over 30 million more vaccine doses in October alone. This includes donated and procured shots, he said.
He is also optimistic that the country's total vaccine deliveries would reach 100 million doses by the end of the month, as he expects more in the coming days.
EXPANDED VACCINATION
Philippine authorities seek to vaccinate teens aged 12 to 17 with comorbidities by mid-October, and the general population also this month. 
The country now has enough vaccine supply to achieve this during the pilot implementation, according to Galvez.
"Mayroon na tayong enough supply. I believe 'yung pilot lang naman natin initially are only here in Metro Manila. Sa accounting namin 1.2 million (individuals) lang 'yun eh. Kayang-kaya po natin 'yun," he said.
(We have enough supplies. I think our pilot would be here in Metro Manila so we can achieve it)
Variava added that Pfizer's COVID jabs are safe for teens, based on the United States' experience.
"We've been vaccinating adolescents in the United States since about May, and its' been very successful, very safe," she said.
The country's immunization program currently covers 5 priority groups, including health workers, the elderly, people with comorbidities, essential workers, and indigents.
The World Health Organization, meanwhile, reminded the Philippine government to continue prioritizing the vulnerable sectors, even when it aimed to expand its vaccination program.
"The pilot implementation is welcome, but we also need to bear in mind that although the case numbers are declining, there's still a big vulnerable population of elderly and comorbid that needs to be protected," WHO Country Representative Rabindra Abeyasinghe said.
"The optimum use of the vaccines will be to increase the coverage of the priority groups. This way we can bring back a sustainable opening of the economy. As long as we have a priority elderly and comorbid population not fully protected, we always run the risk that increased numbers of cases or new surge will necessitate a shutdown of the economy," he warned.
The Philippines, which is fighting one of Asia's worst coronavirus outbreaks, has confirmed some 2.56 million infections, including 38,493 deaths overall. The recent jump in cases is linked to the highly contagious Delta variant.
At least 21.3 million of the country's target 77 million people have been fully vaccinated so far, while 24.2 million are partially vaccinated from the disease.